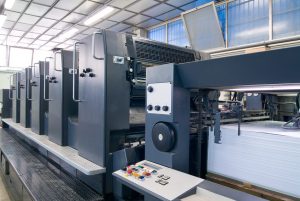 There's no doubt about it: if you have a physical location for your business, you need signage to alert customers of your presence. After all, half of all customers who enter a business do so because of their signage! Grand openings, sales, relocations, and special events all call for professional poster and banner printing, and you'll certainly want outdoor signage year-round. But if you want your signage to actually be effective at bringing people in, you'll need to do everything you can to avoid these popular printing problems.
Poor font choice
You may feel pressure to find a unique typeface to make your posters, banners, and other signage materials stand out. But it's actually better to go with something a bit more simple. In their quest to not be boring, some businesses opt for fonts that are so wacky that no one can read them. Above all else, the font you choose needs to be legible. A reputable printing company can help make sure your font choice will bring people in, rather than putting them off.
Weird spacing
In the world of printed materials, the term "kerning" refers to the process of adjusting spaces between letters and words to obtain a pleasant visual effect. Certain combinations of letters need to be closer together to achieve maximum readability, while others need to have more space in between. If you fail to measure properly or observe these spacing rules, your sign can look wonky and may be difficult for customers to understand. Templates can help you to measure and make sure you don't run out of room, but it's usually way better to enlist help from a professional printer.
Not enough contrast
Bold color choices can help your sign get noticed, but too much color — or not using the right ones — can derail your efforts. Keep the color wheel in mind when designing your signage and remember that contrast is your friend. If you use a background color, you need to make certain that your wording is in a contrasting color that will stand out in a legible way. Using complimentary colors will make your words blend in. The final result should not look gaudy but should be clear and eye-catching.
Bad art or logos
If you intend to use a logo or image on your signage, you should enlist help from a professional graphic designer. Logos need to be simple, recognizable, and tied to your brand. Images can be helpful for certain kinds of banners and promotional materials, but they shouldn't be used on your main business sign. Don't confuse the two. And unless you're a professional designer yourself, don't try to create them yourself on the computer.
DIY signs
In your personal life, creating documents on your home computer is just fine. But when it comes to your business, you need to hire a professional. The materials you have access to at home or at the copy shop on the corner just aren't going to cut it. They won't look nearly as professional or streamlined as what you'll get from a professional printer. And more than likely, you'll end up paying more because of mistakes, frustrations, or the high cost of materials. Ultimately, these handmade signs aren't going to be nearly as effective as the materials you get from a printing company. Really, you'll have a much better ROI by not opting to DIY.
If you're in need of high-quality banners, posters, business cards, and more, you need to work with the best printing companies in Boston. For more information on our services and how our products can help your business succeed, get in touch with us today.