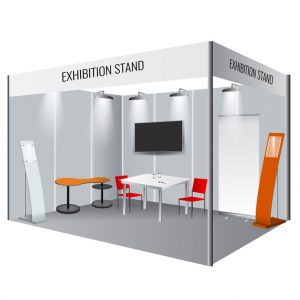 For years, trade shows have been a great way for businesses to display their products, meet with potential partners, and interact with prospective customers. Last year, we saw tons of innovative ideas from trade shows, including things like virtual reality and sustainable booth displays. Each year, businesses find new ways to interact with trade show attendees and promote their brand. This article is going to discuss a few ways you can make your company's booth display stand out at trade shows this year and in the years to come.
Cohesiveness: Companies often do a poor job of expressing brand continuity through their marketing materials and booth displays. Even today's most experienced businesses still struggle with this. However, this is a crucial aspect of brand promotion. Consumers should be able to receive a clear and concise brand message and know exactly what services and products they're being offered. This comes into play when designing booth displays, so be sure to keep this in mind.
Engagement: With consumers becoming desensitized to today's advertisements and marketing materials, it's important for businesses to find new ways to engage with them. Trade show exhibitors should focus on finding ways to engage with attendees through technology and their marketing materials. It's important for companies to find ways to attract the attention of attendees and even find new ways to collect data. In doing this, businesses will be able to give attendees a compelling experience.
Personalization: Over the past few years, more companies have been focusing on creating a completely unique display. Customized and personalized displays are crucial. Consumers don't want to see the same kind of display over and over again. Trade show materials need to offer consumers a personalized experience while accurately representing the brand image. Custom exhibits are the way to go, so make sure you invest in high-quality trade show printing services to ensure your display is the best it can be.
On average, companies allocate about 31.6% of their total marketing budget solely to events and exhibiting, with over $24 billion being spent each year by U.S. exhibitors. However, 70% of these exhibitors don't take the time to decide what their objectives are for trade shows. In doing this, they risk wasting money and time if their booth and materials are not as good as they should be. So it's important for your company to consider the tips suggested in this article and dedicate a lot of time to planning your booth display to fully optimize trade show events.