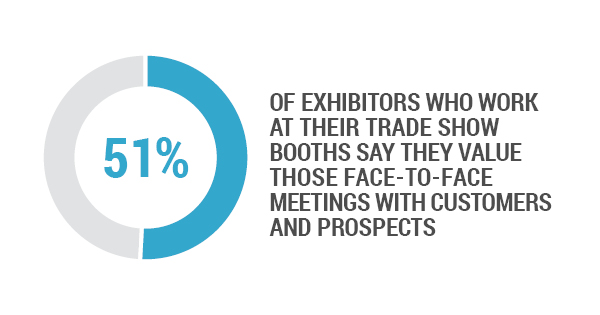 These days, there's an increased emphasis on making digital business connections. Websites like LinkedIn and social media platforms like Facebook and Twitter allow working professionals to make and strengthen connections more easily than in the past. But even though we have these important tools at our disposal, that doesn't mean we should abandon more traditional methods of networking and self-promotion.
Business cards, for example, are still a true necessity in most industries. At an expo, you definitely need them on-hand. Wholly 51% of exhibitors who work at their trade show booths say they value those face-to-face meetings with customers and prospects. It's much quicker and easier to hand out a business card than to write down an email address for later. And if you travel a lot for work, you'll likely need to bring business cards with you; in some cultures, they may be necessary for striking deals, and they'll undoubtedly add to your professionalism.
But to be effective, your business card needs to look great and contain some important information. If you're looking for better business card printing services, we're here to make sure your calling card matches your vast expertise. Below, you'll find some important components of a good business card to help you get started.
A good business card needs to have…
Names and titles
Of course, the most important part of your business card should be the name of the company and of the individual, as well as his or her job title. Depending on your business, you should think carefully about whether the company name or your own name should be featured more prominently.
Contact information
The other obvious component of your business card should include your phone number (work number and/or cell number, if applicable), e-mail address, business website, and social media handles. Some companies will include a QR code that can take smartphone users directly to your website. If your business has a physical location, be sure to include your address, as well. The whole point of a business card is for interested parties to get in touch with you, so you don't want to make them hunt down this information!
Tagline and logo
You need to ensure your business cards are in line with your current brand identity. If you've recently rebranded your business or had a new logo designed, you need to update your business cards to reflect this. Keep your logo simple, as a rule, and make sure your tagline provides instant insight into what your company is all about.
White space
It may seem strange, but your business card needs to have blank white space. If your card looks too cluttered, it can be completely overwhelming and off-putting. You don't want to make it difficult for potential clients to absorb the information you're giving them. By including too much on your card, you'll be doing yourself a disservice. Your business cards should give people a taste of what you do and invite them to learn more, rather than trying to fit in every service or product right off the bat. In this case, less is more.
When you design your business cards correctly and use qualified printing services to produce them, your brand will automatically be seen as more legitimate and appealing. Looking for the best business card printing Boston has to offer? Here at Boston Business Printing, our name says it all. For more information on our printing services, get in touch with us today.