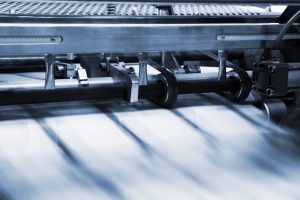 If you have a trade show coming up, it's important your display is attention-grabbing, easily readable, and, most importantly, printed at high-quality levels. With 81% of trade show display attendees having buying authority, there's no room for error. If your booth fails to be top quality, you could miss out on big opportunities. So when you go to have material printed, do you go to your local print shop or use an online printing service? This article is going to discuss the key differences between the two services.
Local Print Shop
When you visit a local print shop for your banner printing, business card printing, or document scanning needs, you can have peace of mind knowing you'll be taken care of well. If you're not completely sure about your design, size, or material choice, you can ask for help from one of the print shop employees. Furthermore, you won't have to worry about inconsistent colors throughout their project. Print shop employees make sure the machines remain consistent from start to finish. Additionally, if you have a time constraint, visiting a local print shop will help get the job done sooner. Without having to go through the hassle of placing your order and waiting for it to ship, you can get your project completed by your deadline.
Online Printing Services
Before you begin using an online printing service, you have to make sure your design is perfect. Because there isn't anyone there to look at your design, check the sizing, or offer advice, you need to make sure it's exactly the way you want the final product to look. And while you may be able to get a quality print job from an online printing service, there's no way of knowing until your delivery arrives. Costly errors are common with online printing services because there's really no way to ensure the printing process is going to remain consistent throughout the entire job.
Whether you're looking for large poster printing or document scanning services, a local print shop is the best choice. With real people to talk to about your project, you'll be able to get exactly what you want. Or if you're not quite sure what you want or need, printing experts will be able to help you through the process to make sure you're happy with the end product.
If you have an important print job that needs to be done quickly and efficiently, visit your local print shop today.