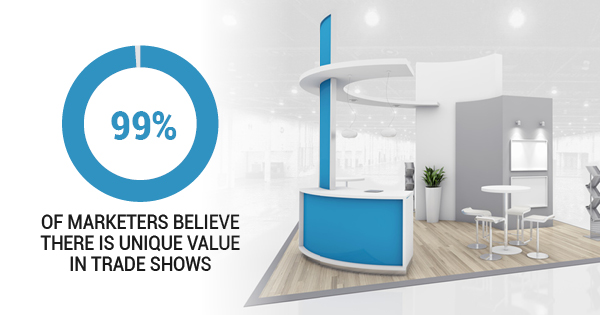 If you own a business and are looking for bright, outside of the box ways to branch out, you might consider attending a trade show. There, you will be exposed to many similarly minded professionals. Trade shows are an excellent opportunity to meet new connections, get more brand exposure, and potentially even make sales. In fact, 99% of marketers said they saw unique value in trade shows that they couldn't receive from other marketing options, according to the Center for Exhibition Industry Research.
Better yet, all of this can be done on a shoestring budget, making it one of the most financially sound marketing strategies. You only need a few supplies to set up a killer booth for your next event:
A Banner
Big or small, a banner screams "look at this!", which is exactly what you want. Make sure to create a design that is eye-catching without being overwhelming. Once you've decided on a design, go to a banner printing store and communicate with them about your purpose for the banner. They should have some insights on the printing machines and methods they use to make your banner just the way you want.
Business Cards
You should never run out of business cards at an important event. Take a realistic estimate of the amount you think you or your employees will give out, and then double it. If you have too many, you'll be able to use them at the next event.
Graphics
This is where custom printing is crucial. Let your imagination run wild with graphic design ideas, then utilize the highly technological custom printing machines at a print shop. Sharp design can make your brand blossom.
Pens
Having a pile of pens with your brand on them is inexpensive and effective at spreading your brand imagery. It helps if you use quality pens, or else people might just throw them out. Of course there's nothing special about pens in particular, so long as you have some sort of branded gift visitors can add to their swag bag.
Enthusiasm
While it's good to have enthusiasm yourself, your trade show booth needs it more. Having an exciting graphic layout at your booth can draw people toward your product, making it alluring. You want your booth to imbue the enthusiasm you have for your company into the potential customers buying into your ideas.
The two most crucial aspects of excelling at a trade show are graphic design and print quality. You need to bring your A-game so you feel confident in instilling the same passion you feel for your business in other people.