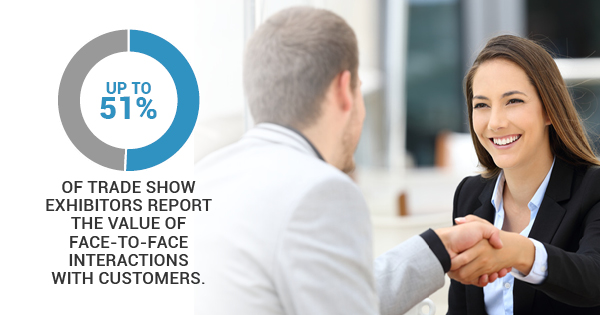 A trade show is a large-scale marketing event, which makes it that much more difficult to stand out from competitors. Every business at a trade show is marketing themselves the same way you are.
How, then, can your business stand out at a trade show when everyone is aiming for the same goal? Here are a few ways you can help make your trade show booths interesting enough to stand out.
Go above and beyond
 If you're going to invest your money in a trade show, you may as well invest in a unique trade show booth. Plenty of businesses will play it safe with the standard 10×10 booth and professional colors. However, just like any other product in marketing, if your booth isn't unique it won't grab your buyers' attention. Don't be afraid to go above and beyond to make your trade show footprint. As long as you're able to stay true to your brand within the dimensions of your booth, you have no reason not to go all out.
Give a demo of your service or product
One of the best ways to make sales and interest potential clients at a trade show is to show the value of your product. To show the value of your product, consider offering a demo at your booth. A demo can show real-time value to an audience of your target market. What's more, your audience's conversion is more likely the more they're involved with your booth.
Choose your trade show hosts wisely
Up to 51% of trade show exhibitors report the value of face-to-face interactions with customers. Direct interaction with business representatives can give customers a better idea of who you are and what your business does. For this reason, it's important to choose the representatives of your business at a trade show wisely. Professionalism is key, but you also want someone who's charismatic and compassionate enough to reach the audience. If your booth grabs a person's attention, your representative needs to be able to hold that attention.
It can be challenging to make your trade show booths really stand apart from the crowd. By following the tips above, you help make your trade show printing that much more interesting to generate more sales. For more information on trade show banner printing and other printing services, contact Boston Business Printing today.