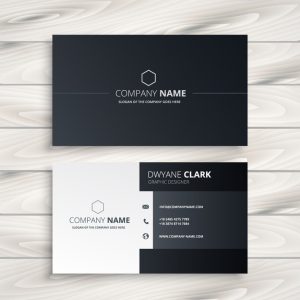 Custom business cards are everywhere. You've seen all manner of terrible, beautiful, confusing, and boring business cards come out of custom printing shops. While a solid group of customers will enter a business due to signage, business cards are ways to make business signage personal.
When you're representing your business bearing a card with your name on it, you want it to stand out from the crowded wallet. People get tons of business cards, especially at networking events. Sadly, the majority of them find their way into the garbage because they're just not well designed. If your business card gets thrown out mixed in with old receipts, you're doing something wrong.
Before you put yourself out there for potential future customers, make sure a boring business card doesn't shoot you in the foot. Check out some tips on building better custom business cards.
Mind The Gap
Basic design principles state that you cannot cover the whole card in design and lettering. This clutters your limited space and will confuse the viewer. It must be legible, but small, allowing for maximum space usage. Don't get too close to the edges either; leave space around them. Leaving a gap around the edges forces readers to centralize their focus.
Simplicity Is Key
One of the most common business card mistakes is making them too busy. Many people think that they have this tiny amount of space to cram as much information as possible, along with artwork that's supposed to catch the eye. What you're catching is a confused reader. A business card is the first impression. When you hand one off, in the first few seconds of someone looking at it, they should glean the information they need with enough design intrigue to make them want to ask questions. Think of it as a business icebreaker.
Start With A Solid Foundation
Building off simplicity is key. The first question you should ask yourself when designing a business card is, "What's the least I can put here and still get my point across?" Start right there. When you've established this, then you can move forward to artistic complements to your information, eye-catching artwork, and even physically tactile card designs. However, none of this should come before your foundation.
Following these rules will guide your new business cards toward successful design. When you're done and people receive your card, you're reflecting better on your business, yourself, and your attention to the finer details.