This is about a month and a half too late, however, I got to thinking about how pleased I was this year with our company holiday card and I figured I would share my thoughts on this with others who may be thinking about designing meaningful holiday cards.
As a printer, we print holiday cards for our clients every year.  We see lots of different kinds of cards; most are strictly professional, some are so-so, but there are always a few that speak to the heart.  Those special cards make the receiver feel that the firm  really cares about you or the card's theme (the holidays/peace/goodwill/love, etc.).  We've always had very business-like cards ourselves.
So this year I set out to make our holiday card reflect something important to me. (Okay, so being passionate about peace, good will and love is pretty common but, hey! they are important to me!)  A combination of things has brought me to thinking about love in particular; random shootings, terrorism, losing loved ones, reading about near death experiences, the nasty elections, to start.  This year I was determined to design a meaningful holiday card.
The first thing I did was to search for a "wise saying" that I could use for the front of our card.  I don't have enough time (and probably not enough experience) at saying wise things so I decided to google "wise sayings about love".  There were several but the one that struck me most was one from Mother Theresa, "Love is a fruit in season at all times, and within reach of all hands" .  This, to me, was very poignant because it's absolutely true.  I remember John Lennon saying that he truly thought that all the world needed was love (thus, the song). I'm coming around to his point of view.
Next I needed an image to match the wise saying.  Since I'm a printer I have a yearly subscription to stock photography houses and, being an animal lover, I figured I'd look for an image with an animal to match the saying (to an animal lover, animal = love).  And there it was on the first page I looked at – a young Visla putting an apple (still on the tree) into her mouth!  It was precious.  The rest was easy.  One of our designers made it look a little holiday-ish and we were off!  The first holiday card that actually meant something to me, such that I think it probably touched a lot of clients' hearts on beholding it because the sentiment behind it was so genuine.
In any case, I attach the card below and hope that you will consider making your next holiday card reflect your ideals/hopes/passions.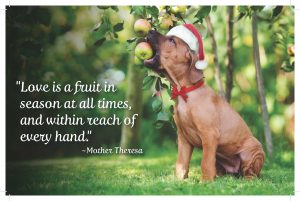 Sheryl Read, President