Creative custom promotional items can really differentiate you from your competitors.  We've seen some interesting applications for custom promotional items.  Here are a few of the things we've provided to clients:
Buttons
"Save the Janitors" was a recent button job we did.  Administrators and teachers at an elementary school were angry that the school wanted to lay off the janitors so one of the things they did to showcase their solidarity was to print buttons, "Save the Janitors".
"Save the Colonial" was another button job we did for a client.  The Colonial Theater in Boston was going to be closed and since it was one of the historical (and very beautiful) landmarks of Boston, there was a big campaign to save the theater. (In addition we printed books about the history of the theater and biographies of people who worked and performed there.) Bostonians rallied and together they were able to save the theater, thanks in part, to the custom promotional items!
Embroidered Jackets
A group of Navy Seals required black, nylon, waterproof with the Navy Seal emblem embroidered on the front. We didn't ask a lot of questions.  We just keep providing them with their customized jackets as they add people to their group.
U.S. Made Cotton Tee Shirts
A law group affiliated with a union organization needed shirts that were U.S. Made (right on!!) AND made with U.S. milled cotton AND printed by a union company. This was very difficult to find but we did it. We silk screened logos on the sleeves and the front chest and the back (if requested).
Lanyards
Coming to Boston for a trade show and want attendees to wear your lanyards with their badges?  Any color combination is available, printed on one or both sides. You can get lanyards with bulldog clips, detachable swivel hooks or swivel hooks.   Just don't wait until the last minute because customized lanyards take about 2 weeks to produce!  We've produced thousands of lanyards for our convention clients.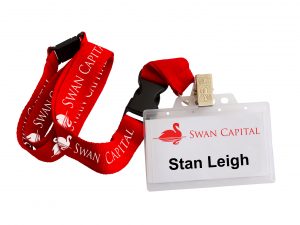 Lightweight, Plastic, Customized Stylus Pens
A client received a quote from another company for executive pens that was way over their budget.  We'd done several printing jobs for them in the past so they called to see if we did custom promotional items. We were able to find a light, plastic pen that looked like metal and looked as nice as the expensive pen they'd received a quote on.  But at a tenth of the price. Needless to say, the client was thrilled.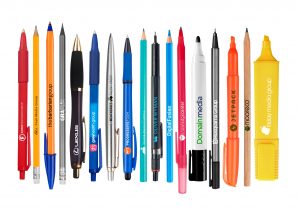 Bumper Stickers
Many politicians (or would-be politicians) ask us to print their bumper stickers as they launch their political campaign. Whether you want to be a large city mayor, the sheriff of a small district, or a councilman or councilwoman for your home town, we can print your bumper stickers in full color.  Probably one of our most memorable bumper sticker wasn't for a politician.  It was for a city garden cleaning company.  Brightly adorned with little pictures of carrots, corn and lettuce, the sticker read, "Leave no Crop Behind".  The "o" in crop was an onion so it left a little question in one's mind whether they meant crop or crap.  Very catchy bumper sticker indeed.
Hand-held Fan Signs
When Compassion and Choices was trying to pass the law to choose one's right to die, they called us to create large fan signs on a stick that read, "my life. my choice. my death.".  The fans were bright lime- green with blue letters (and the BBP union bug).  They handed them out at demonstrations at the State House.  The law was ultimately passed.
Bags, Bags and More Bags
Whether you want coated laminated bags with foil imprints and woven handles (like the Dana Farber chose for their 25th Anniversary Discovery Celebration) or natural canvas totes (given out at conventions, receptions or to company employees) with your personalized logo, we've done them all!
Call or email us at BBP for your next custom promotional items and for some creative advice. 617-482-7955 or email us at bbp@bostonbusinessprinting.com.