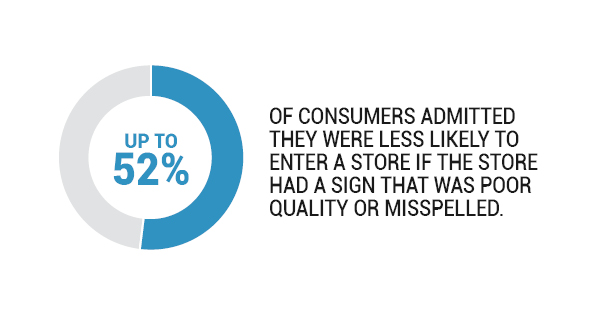 A lot of advertising attention has been focused on digital marketing in recent years. While it's true that digital marketing is often seen by a wider audience, online users are more likely to scroll past your ad than read it.
On the other hand, up to 50% of all customers who enter a business have reported that they did so because of signage advertising for that business. For this reason, large format printing and graphics are increasing in popularity because they're proving to be an important part of any business' marketing plan.
It's understandable to be unsure of the benefits of large format printing services what with businesses crowding toward social media marketing and digital platforms. However, the following facts show that large format printing solutions are actually far more beneficial than many businesses think.
Banner printing improves visibility
Up to 76% of American consumers report walking into a store because a large formatted sign caught their interest and up to 68% of American consumers reported purchasing a product based on the same reason. Signage is also proven to generate discussion between consumers regarding a business or product.
However, businesses that choose to utilize large format printing services should be warned that the quality necessary for this kind of advertising must be high. Up to 52% of consumers admitted they were less likely to enter a store if the store had a sign that was poor quality or misspelled.
Large format printing companies use UV ink
The ink used in large format printing is typically UV ink meaning it's dried via ultraviolet light. This makes the ink more usable in outdoor settings because the colors are fade proof and water resistant. As a result, these advertisements can be held up anywhere and everywhere regardless of weather.
Additionally, large format printers often print their images using CMYK color combinations on high-quality machines that use large nozzles to print in a fashion similar to digital printing. Therefore, not only are these banners water resistant and fade proof, but they're also incredibly high-quality in color and wonderful to look at.
Large format Boston printing companies produce a range of products
Large scale prints can be made for a wide range of signage whether they be for indoor or outdoor use. These print include floor graphics, building wraps, retails signs, vehicle wraps, murals, and banners.
Digital marketing may be one of more talked about marketing strategies among businesses. However, when it comes down to it, print is still the most popularly read among consumers. With large format printing services, not only can you ensure your business' information will be read by consumers, but it will also be seen by wider audiences in ways a digital ad won't.