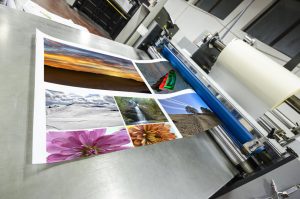 Contrary to popular belief, print is not dead. In fact, the printing industry has evolved over time to compete with the new digital age. One way that printing services have adapted to the digital world is by offering digital printing services. But how exactly has this changed the industry as a whole?
For starters, digital printing services have helped printing companies adjust to the consumer shift from large bulk orders to smaller orders. In the past, printing companies would have to put a lot of time and effort into filling one large order. Now, digital printing allows printing companies to help their customers print smaller orders that are more specified. Consumers want their designs to be printed quickly and flawlessly, and that's just what digital printing does.
While traditional print methods are still used for larger orders, digital printing has plenty of benefits to offer both customers and printing companies.
Increased speed: Offset printing can produce absolutely flawless prints. But it does involve a somewhat lengthy preparation and printing time. With digital printing, customers can basically plug in, set up, and print immediately. In today's fast-paced world, speed is crucial to keeping customers happy.
Lower costs: Because digital printing doesn't require a long preparation, the cost of digital printing is much lower than traditional printing methods. From fewer materials and prep to quicker turnaround times, digital printing is often a more cost-effective option for printing projects.
More options: The digital printing method can be used to print on a variety of materials and surfaces. This is often not the case with traditional print methods, making digital printing more appealing for printing on materials like vinyl or cotton.
As you can see, digital printing has made some big improvements in the printing industry. Which is a good thing because print is more important than ever. Seeing as how customers who live within five miles of a business will notice the business' sign about 50 to 60 times every month, it's important for companies to still take signage seriously. With the right printing methods, businesses can ensure their storefront is able to attract the attention of potential customers.
The printing industry may not appeal to everyone, but those who have seen the positive impacts print material can make know how important the right printing services are to successfully get a message across.