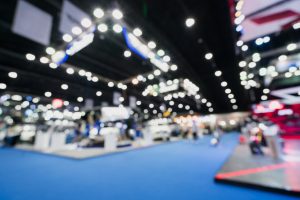 Trade shows are incredibly important for the success of countless businesses. In fact, the average company dedicated 31.6% of its entire marketing budget to expos. Therefore, complete preparation is key. While you're getting ready for your next trade show, you'll want to avoid making these common mistakes.
Having no specific goals
This is a big one. With any endeavor, you need a goal for which to strive. But studies have found that around 70% of exhibitors at trade shows set no particular objectives for their exhibits and the outcome they wish to achieve. Your goal needs to be something more than simply "getting more leads" or "bringing in more revenue." Instead, focus on goals with much finer details. Do you want to break your attendance goal? Do you want to improve your brand awareness? What about snagging speaking opportunities at the expo? These goals may seem small, but they'll end up being an important part of the big picture.
Poor quality images
Visuals are key to great presentations. But if the images you're using on your trade show printing materials look cluttered or are low resolution, you're not going to attract people to your booth. Images should be used thoughtfully; that's the only way they're going to make an impact. Keep in mind that less is usually more when it comes to the images you use. Make sure to use reputable printing services for the highest quality images you can get.
Bad booth layout or branding
Your trade show booth should support your overall message and should entice visitors to come by. But if your design is poor, you may overwhelm guests or may not even convince them to come over. An open, well-lit space will make attendees feel welcome. You'll also want to work with printing services to design large scale banners, displays, and other printed materials to ensure consistency and effectiveness in all areas of your marketing. Everything should make sense and should invite people to learn more.
If you're planning on exhibiting at an upcoming trade show, you need superior printing to help you reach your goals. For the best digital printing Boston has to offer, contact Boston Business Printing for all of your trade show needs.