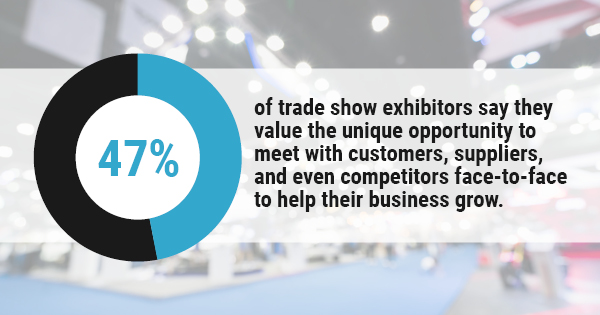 No matter your industry, it's likely your business will have the opportunity to exhibit at a trade show at some point in the near future. After all, 47% of trade show exhibitors say they value the unique opportunity to meet with customers, suppliers, and even competitors face-to-face to help their business grow. Whether you're going to be attending your very first expo or are a seasoned trade show veteran, you can't forget the following four things. Otherwise, your trade show booths won't live up to their potential.
Versatile signage
Of all the items you can order from printing companies in Boston, you should make signage your top priority. High-quality banners and posters can make all the difference for your trade show experience; with great signs, you can make tons of new contacts and leads, but with subpar signage, you'll be selling yourself short. A company that specializes in expo printing services will design legible, beautiful, and exciting signs to bring in business. Make sure to consult with reputable trade show printing services to cover all the bases.
Business cards
Regardless of what some people may think, business cards aren't outdated. They're an absolute necessity for exhibitors. You need to make sure the impression you make on your leads has staying power, and the best way to seal the deal is with a well-designed business card. You'll need plenty of pocket-sized business cards on-hand at all times during the expo. A business card printing company will ensure all of the most important information is included in an attractive, enticing way.
Promotional items
More often than not, booths that give away free promotional items will drum up more interest. Handing out mugs or tote bags with your company logo or hosting a giveaway for higher-ticket items are both great ways to increase your leads and forge potential relationships. Ultimately, branded items like these provide great advertising value. Plus, they let customers and other businesses see what your company is really about. Remember that these promotional items should use the same cohesive design you use in your signage and other materials. Working with the same company for all of your printed services will guarantee everything looks connected.
Tech and power
In the digital age, technological demonstrations tend to go over quite well. This is especially true if you work in an industry that really lends itself to impressive gadgets and tech developments. But if you plan on using technology throughout the expo, make sure you bring a way to keep it going! Bring batteries, extension cords, power strips, connecting cables, and anything else you could possibly need to power your presentation. Don't assume that you'll have access to these items once you arrive at the expo. If you bring them yourself, you won't have to worry about running out of juice.
Trade shows can be stressful, but they can also be a lot of fun. And as long as you remember these four must-haves, they can be great for business.
To find out more about securing printing services for your next expo, contact Boston Business Printing today.