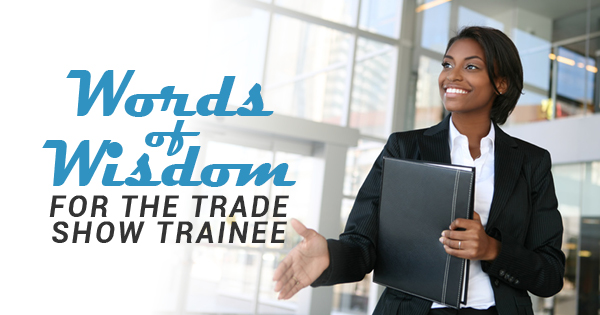 Trade shows can be a crucial factor in taking your business to the next level. There are so many techniques to having a successful trade show that it's hard to know which ones will work best for you. The best answer is there is no cut and dry template that works for every business. Your company's success is dependent on your ability to find what works for your business and to continue to expand on those ideas. Here are some general words of wisdom for someone hitting their first (or 30th) trade show:
Don't Underestimate the Power of Print
It's a digital world out there and people are almost always plugged into some device or another. That doesn't mean having a booth completely digitized is the best strategy — digital material is commonly skimmed in a period of 15 seconds while print material tends to engage people for longer. If you want to play the middle ground and see which media form works best for you, then get some of both for your booth. Things like custom business cards and flyers that people can take with them are a great idea for anyone. Should you consider trade show printing, there are many digital printing companies that can give you a better idea of what to expect.
Grab Their Attention — Don't Tackle Them
Having a captivating essence right away is important in at least driving foot traffic to your booth. Whether they stay or not is how well you present your product. So in order to get them to come to you, there has to be certain aspects of your booth that are engaging or recognizable. Using a trade show banner printing company to create something that captivates your audience is a surefire way to bring in those curious enough to wander over. Going over the top can be a big mistake, though. Bigger isn't always better, and neither is louder for that matter. Your signs and displays shouldn't be yelling at your audience or confusing their eyes with disorienting colors and graphics. Sometimes simple is key and you should know your audience when consulting with your trade show banner printing service.
Tell Your Story
One of the most important things is to be able to effectively tell your company's story. How you got to where you are, what services you provide, why you provide them, and what the future might hold. Even if all else fails your company message should still be flawless. Using booth techniques to assist in telling your message is extremely helpful but if you happen to get someone who is just willing to listen you need to be able to pull out all the stops.
So if you're about to begin planning for your first trade show ever and have already called a trade show banner printing company or you're a seasoned trade show expert — it's always important to continue reevaluating your technique and bringing the best you have to offer.